STROCK INSURANCE IS YOUR ERIE INSURANCE PROVIDER IN CENTRAL PA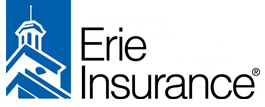 If you're looking for an Erie Insurance provider in Central Pennsylvania, look no further than Strock Insurance. Our professionals stand ready to assist you by meeting your insurance needs with one of the most well-respected insurance companies in Pennsylvania.
Eric Insurance : A Commitment to Customer Service
Since 1925, Erie Insurance has lived up to its one simple mission: to provide fantastic service and great value. For almost a century, the company has provided auto, home, business and life insurance with its characteristic integrity in all transactions. Erie Insurance is known for honesty, support and affordability.
Right now, Erie boasts of an expansive network of independent insurance agents who serve more than four million customers in 12 states and the District of Columbia. These agents exist to carry out the company's founding purpose: "To provide our policyholders with as near perfect protection, as near perfect service as is humanly possible and to do so at the lowest possible cost."
Erie Insurance has a loyal customer base because people know that the company will always go the extra mile. We not only get them insured with a competitively priced premium, but we also provide them with required coverage after an unfortunate loss.
Strock is a Provider of Erie Insurance
In Central Pennsylvania, Strock is the premier provider of Erie Insurance policies. We've been in the region since 1983 and have a proven track record of repeat business, rave reviews and outstanding quality of service.
If you're a homeowner in Mechanicsburg looking for a home insurance policy, a business owner in Harrisburg looking for general liability insurance, a car owner in Camp Hill looking for an auto insurance policy or a parent in Lebanon who's looking for life insurance, you should know that Strock is the Erie Insurance company that can best meet your needs.
We have Erie Insurance agents standing by, ready to assist people in Mechanicsburg, Lebanon and Harrisburg with auto, home, business or life insurance needs. We can provide you with the same commitment to customer service that so many of our other loyal customers have already experienced.
Contact us today to learn more about Erie Insurance products best suited to your needs.